Pap Smear
The "Papanicolaou" examination should be held every six months. In the case of any problem it should be held every three months.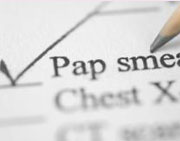 This examination is held exclusively for the prevention of the cervical cancer of the uterus. It is not a microbiological examination and of course it cannot be used as such.
Occasionally, the Papanicolaou test shows if the patient has cancer of endometrium, but this should not be used for this reason. It is necessary the patient be aware of what the test can show and do not think that it covers all possible cases. Under no circumstance it replaces the normal clinical examinations.